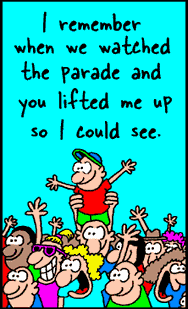 Father's Day

will be celebrated in the United Kingdom, United States and Canada on 16th June 2013, the third Sunday in June.
Sonora Dodd,
from Washington
,
first proposed the idea of a
Father's Day
in 1909.
She wanted to honour her father because he had
raised his 6

children as a

single parent.
The day was first made a holiday in 1966, with
President
Lyndon B. Johnson.
Six years later, the day was made a permanent
holiday by
Richard Nixon
.
Nowadays, all men who act as a father figure
are
honoured
on this day.
In many catholic countries, such as Portugal, Father's
Day is celebrated o
n March 19,
St. Joseph's Day.
Make sure your DAD feel appreciation and very special this FATHER'S DAY!
"Daddy, I love you
For all, that you do.
I'll kiss you and hug you
'Cause you love me, too."